Print This Post
By Carolyn Yeager
Elie Wiesel questioned under oath in a California courtroom in 2008:
Q. And is this book Night that you wrote a true account of your experience during World War II?
A. It is a true account. Every word in it is true.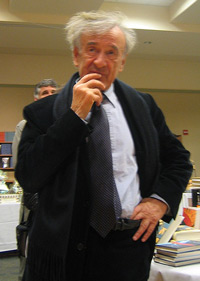 In Part One, I established that the decision to rebrand Night into an autobiography was the reason for a new translation, in which necessary changes could be made to better 'fit' the story both to the real Elie Wiesel and the known facts of the Hungarian deportation.
When the 2006 translation came out, with its new classification to "autobiography," questions arose from some circles. Responding to these questions, Edward Wyatt wrote an article  in the NewYork Times on Jan. 19, 2006, in which he quoted Jeff Seroy, senior vice president at Farrar, Straus & Giroux, parent company of Night publisher Hill & Wang, as strongly denying that changes were made to bring the book more in line with the facts. "Nonsense," said Seroy. "Some minor mistakes crept into the original translation that were expunged in the new translation. But the book stands as a record of fact."